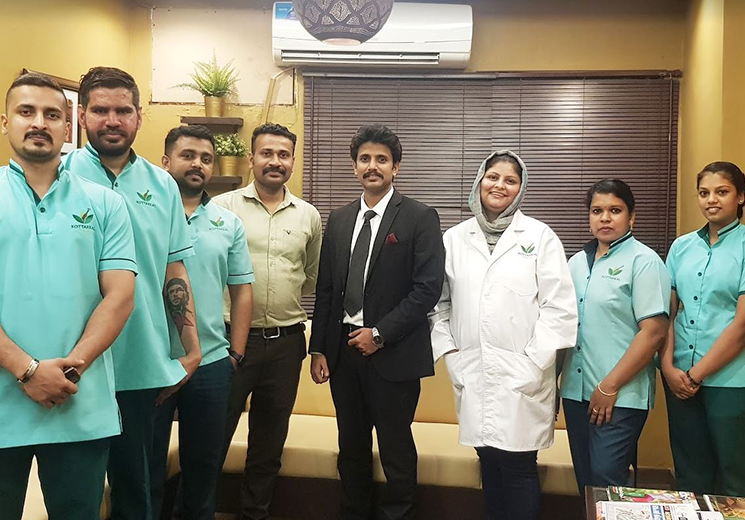 Kottakkal Ayurvedic Treatment Centre offers an extensive menu of therapeutic and rejuvenating Ayurvedic treatments that are result-oriented and designed to meet individual needs and health goals.
We encourage natural and toxic-free wellness to the body and our authentic and renowned Ayurvedic treatments are the answer to almost every ailment prevalent.
Authentic Kottakkal Arya Vaidya Sala Ayurvedic Massage - An enlightening experience for your body, mind, soul & relief from pain. Offering traditional massage treatments such as Abhyanga, Elakizhi, Pizhichil, Sirodhara, Navarakkizhi, Nasya, Kativasti, Udvarthanam, Marma Abhyangam, and Shiropichu, Etc.
Freshly Prepared Medicine & Ayurveda Panchakarma Treatment Center, where Treatments for back pain, Neck Pain, Shoulder Pain, after delivery/postnatal care, paralysis, Parkinson, old age care, asthma, diabetes, arthritis, knee joint pain, piles, weight loss, thyroid, autism, infertility, obesity, acne, rheumatoid arthritis, PCOS, sinusitis, hair regrowth, knee pain, migraine, hair loss, hair fall, skin diseases, fibroids, constipation, acidity, osteoarthritis, cholesterol, jaundice, sciatica, osteoporosis, gastric problems, spondylitis, allergy, cough, insomnia, psoriasis.