Hair Loss/Fall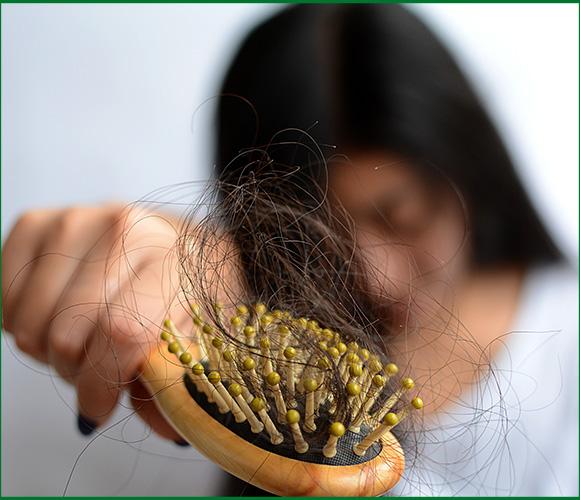 Treat your hair problems straight from the roots & pave your way to healthy & naturally. Consult UAE's Leading Hair Specialists.
Kottakkal Ayurveda provides authentic ayurvedic treatment for hair loss in Dubai, Ajman, UAE. This treatment is based on the ancient Ayurveda treatment for hair fall. Ayurvedic treatment for hair growth is very effective and is of no side effects.
Our hair fall treatment procedure is treated from the root cause and strengthens the hair scalps. Nourishes hair to grow in a natural way with the use of natural medicines. We are treating alopecia areata also.
Your hair is an extension of your identity. Perfectly applied makeup, and fine jewelry is all wasted if your hair looks greasy, dull, messy, and full of dandruff. Just like your body, hair is also important to take care of.
Due to an unhealthy environment, water, etc., almost everyone is suffering from Hairfall & Dandruff which is really hectic for anyone to face. Fortunately, Kottakkal's Special Package includes Haircare Package (Hairfall & Dandruff) as the solution to your hair problems.

Apart from medical management, there should be healthy eating, stress control, a healthy & balanced diet which are rich in proteins, vitamins, and minerals, and also a healthy lifestyle is very much important to prevent hair loss.

The package has the solution for your Hairfall & Dandruff which can give you healthy, shiny & thick hair. Fight with your hair problems, come to us get and enjoy our package;
Kottakkal's Special Head Oil Massage
Thalapothichil
Shiro Kashayadhara
Shiro Tailadhara
Note: Treatment can be added or omitted as per the condition of the patient.

Providing quality Ayurvedic treatments for hair loss/fall to cure people with a holistic approach. Consult Now!
Kottakkal Ayurveda Highlights
Highly Experienced Doctors & Therapists.
Providing the best traditional ayurvedic treatments for the past 25 years
Dedicated, experienced staff
Assures you a healthy life ahead
Neelibringadi Hair Oil
Indian gooseberry, coconut oil, cow milk, and buffalo milk are among the ingredients used in Neelibringadi hair oil. It is good for your hair, and they help it grow and stay strong and healthy.
Each ingredient has natural anti-fungal and anti-dandruff properties. Ayurveda recommends Neelibringadi Thailam to strengthen the hair shaft and prevent dryness and brittleness. This reduces hair fall and split ends. Dandruff-fighting conditioner for the scalp Its medicinal ingredients is used to treat male pattern baldness.